Building Better Workplaces TOGETHER


Everything DiSC® Management CERTIFICATION - VIRTUAL TRAINING


Everything DiSC

® Management CERTIFICATION - Live Virtual Training Event

Program Components
The course uses a blended-learning approach spanning four weeks involving: (See below for Course Offerings & Session Dates)
Live virtual‐classroom sessions: Three 90-minute instructor-led online sessions involving small and large group activities.
Self-directed online learning: Modularized, engaging activities that allow you to absorb knowledge at your own pace; online activities must be completed before their corresponding live virtual classroom session.
Project Team Plan: Ongoing assignment that promotes application of the learning to a real or potential workshop, followed by a group presentation in the third live session.

Participants Take-Aways
Expertise in the Everything DiSC® and Management key concepts
Confidence and competence in facilitating Everything DiSC Management, going beyond the Facilitation Kit to spark behavioral change among manager participants
Ability to customize and apply the Management program to meet the needs of the modern-day manager, team, or organization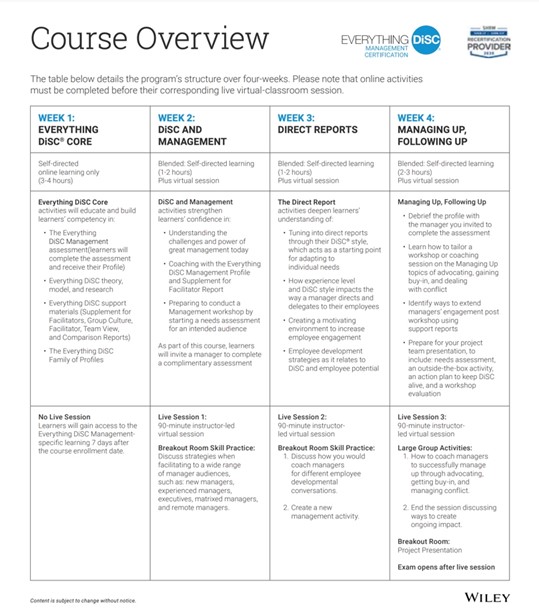 Click here to download the Everything DiSC Management Certification Course Overview
Investment
Course (per person)

$2,495

Volume Discount (cost per person when 5 or more register from the same client organization)* Must register at the same time for the same course date.
**Contact MDR to register 5 of more for the same course so we can implement the discount.

$2,045 per person ($450 discount)

Per Kit $1,495

*Note: Everything DiSC Management Facilitation Kit (required that each attendee own or have access to a facilitation kit - purchased separately)

*Note: Organizations that send multiple facilitators through Everything DiSC Management Certification Training only need one kit!




**See Link at the bottom of this page to order your Kit
Course Requirements
Own or have access to an Everything DiSC Management Facilitation Kit
Commit to four weeks of self-directed online work, including 3 instructor-led, virtual classroom sessions
Active participation in all three live 90-minute virtual sessions (instructor-led)
Satisfactory, on-time completion of all self-directed learning activities
Passing score on the final exam
Ability to access the course from a personal computer and use a cell phone or land line for the live collaborative sessions (Please note: long distance phone charges or fees WILL NOT apply; however, cell phone minutes will be used)

Course Series Options:


**This course is delivered over 3 Live Virtual Sessions, access to begin your pre-work begins 14 days prior to Session 1.
NOTE: Time Zone is Central Time



Technical Requirements
A laptop or desktop computer (Mac or PC) is preferred; tablets are not always compatible with course components
A phone line is required for audio in the live sessions. VOIP cannot be supported.
Recommended Internet browsers with updated Adobe Flash® include:
Mozilla Firefox or Google Chrome for most operating systems.
Microsoft Edge for Windows 10 users (some activities may not work on other browsers.
Do not use Internet Explorer or Safari for this course

GETTING STARTED—ONLINE TRAINING CENTER

On the day the course opens, you will receive your Everything DiSC Training Center login. You have 14 days to complete prework before the first live virtual classroom.
EARN A CREDENTIAL
Upon successful completion of all self-directed activities, attending all live virtual sessions, and passing the final exam, learners will earn the credential of a
Certified Everything DiSC Management® Facilitator. SHRM

SHRM RECERTIFICATION PROVIDER
If you hold a credential as a
SHRM Certified Professional or Senior Certified Professional
, Everything DiSC Workplace Certification will award you
15
Professional Development Credits toward your
SHRM certification renewal.


Purchase your required Everything DiSC Management Facilitation Kit
*Required for certification
**The Purchase link will take you to the MDR Shop page where you can complete your purchase of your required Facilitator Kit if you do not already have one.

Everything DiSC Management® Facilitation Kit (English)
$1,495.00
This EVERYTHING DiSC® MANAGEMENT FACILITATION KIT has everything you need to facilitate training sessions using Everything DiSC® Management profiles. This kit provides everything you need to confidently lead a training session. For use with the Everything DiSC® Management profile (sold separately). This kit is designed to beflexible and comprehensive. It features six one-hour modules, fully-scripted facilitation with engaging activities and video. Trainers can switch out video clips, modify the slides and add or delete sections to fit any timeframe.



For your organization, Everything DiSC tools help to foster healthier workplaces, supporting an engaged, collaborative, and adaptive culture that inspires teamwork and drives results.



Contact your MDR Leadership Academy Team with any questions at MDR Coaching & Consulting, Inc.
1-800-351-3129
Authorized Partners for Everything DiSC®